About Us
Legend CrossFit, LLC
Legend CrossFit, LLC founded by Joey Pietri in 2008, is one of the first CrossFit Gyms in Idaho. We proudly serve athletes and clients of all walks of life. Our gym is home to community members and guests ages 6 to 70+ who have the desire to live active lives.
Coaches
---
Joey Pietri: Founder, Level 2 CrossFit Certified.
Joey has been woven into the fabric of the McCall community since the early 70's. Spending most of his years in the construction trades, he has been instrumental in the local youth football scene. He also founded the Youth Optimist program in McCall and spent many years coaching the different levels of football. Currently, Joey is the Players Safety Coach Acting Director for the Optimist Youth Program in McCall. "If you have any questions on who to know or where to go, talk to JOE."
---
Cheyenne Pietri: Co-Owner
Cheyenne is the Co-Owner of Legend CrossFit and Head Coach. Cheyenne has spent time coaching athletes of the highest caliber. Notching NFL ProBowlers, UFC Hall of Famers, and First Descent Alpinists in his lengthy list of clients.
---
Tony Day: Coach
Tony Day is a Physical Therapist by day and has a passion for preventing injuries before they occur. He loves challenging people to achieve goals they did not think were possible. He has completed his Crossfit Level 1 course along with USA weightlifting and Crossfit weightlifting specialty courses. He enjoys using his fitness by getting outside as much as possible with his wife and daughter.
---
Angel Hudson: Coach
Angel is a first grade teacher in the McCall-Donnelly school district. She has taught for over ten years in the McCall area. Her passion for teaching extends for all ages, from 3-93. Angel was a former dual collegiate athlete. She played tennis and ran cross-country. She has completed her Level 1 CrossFit certification. Today, Angel enjoys being active outside with her husband Garrett.
Jesse DeMoss: Coach
Jesse is an Artist by birth but has found a love in the art of movement.  Jesse is an avid CrossFitter who has expand his movement knowledge into his martial arts.  Jesse is a steadfast contributor to the Legend CrossFit community and the community of McCall in general.
Ryan Heywood: Coach/General Manager
Ryan is a Level 2 CrossFit Trainer and UESCA certified Ultra Running Coach.  When not coaching or programming for athletes, he enjoys training/completing 100 mile races, ski touring, and skate skiing.  He is grateful to be part of the Legend CrossFit team and we are grateful to have his as a coach and manager.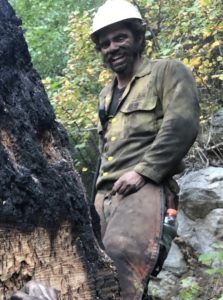 Shawn Donnelly: Stand In
Coach Shawn is our stand in Wildfire Coach.  Shawn is a fitness enthusiast and a great compliment to our coaching staff when he is not out protecting our forests.  Shawn enjoys the mountain life; skiing, snowmobiling, and training whenever he can.